Project Bravery: Trans Support Group
What: Trans Support Group
When: Every other Wednesday, 6 p.m. PT
Who: All ages.
Where: Currently on Zoom; see details below.
FREE
Project Bravery and Central Oregon Coast Trans Community (COCTC) are joining fabulous forces to bring trans support into digital space! Join Beck and Marci every other Wednesday from 6-8 p.m. PT for safe space, socializing, and support. These meetings are open to all ages–please keep that in mind! If you have difficulty accessing Zoom, please PM Beck.
Details for joining the Zoom meetings are below.
Meeting ID: 957 3731 3388
Password: 629415
Find your local mobile number: https://zoom.us/u/aeI5qS3Het
---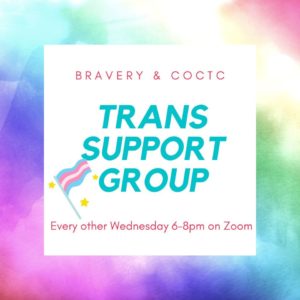 Get connected with Bravery! Queer-led space and resource program for LGBTQIA2S youth.
chat space on discord • zoom hangouts • trans support • mental health services • youth leadership team • community resources
What to know more?
beckj@olallacenter.org
(541)819-0454
(541)336-2254
Facebook: @projectbravery
Instagram: @bravery.center
Website: https://www.olallacenter.org/project-bravery