Project Bravery: Youth Social Hour
What: Youth support group
When: Fridays, 4:30 p.m. PT
Who: LGBTQIA youth
Where: Currently on Zoom; see details below.
FREE
Project Bravery offers a safe space support and social hour every Friday from 4:30-5:30 p.m. PT on Zoom for LGBTQ+ youth ages 14-18. To join, contact Beck (they/them).
Want to stay connected to other LGBTQ+ youth, local resources, and share cute pictures of your pets? Bravery has a Discord server for LGBTQ+ youth 14+. For an invitation to join Discord, or to join us on Zoom every Friday, contact Beck (they/them) at beckj@olallacenter.org or send a direct message through the Bravery Facebook page.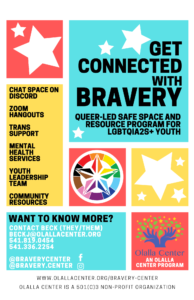 ---
Flyer transcription
Get connected with Bravery! Queer-led space and resource program for LGBTQIA2S youth.
chat space on discord • zoom hangouts • trans support • mental health services • youth leadership team • community resources
Want to know more? Contact Beck (they/them)
beckj@olallacenter.org
(541)819-0454
(541)336-2254
Facebook: @projectbravery
Instagram: @bravery.center
Website: https://www.olallacenter.org/project-bravery