Free COVID-19 & HIV Testing Available / Prueba COVID-19 & HIV gratuita para la comunidad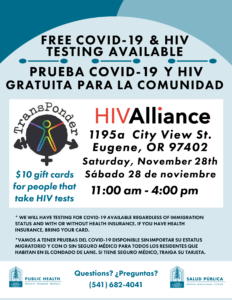 PDF in English y Español: CLICK HERE/CLIC AQUÍ
𝗙𝗿𝗲𝗲 𝗖𝗢𝗩𝗜𝗗-𝟭𝟵 & 𝗛𝗜𝗩 𝗧𝗲𝘀𝘁𝗶𝗻𝗴 𝗔𝘃𝗮𝗶𝗹𝗮𝗯𝗹𝗲
Saturday, November 28
11 AM – 4 PM
1195a City View St.
Eugene, OR 97402
We will have testing for COVID-19 available, regardless of immigration status and with or without health insurance. If you have health insurance, bring your card.
10 gift cards for people that take HIV tests!
𝗤𝘂𝗲𝘀𝘁𝗶𝗼𝗻𝘀? 𝗖𝗮𝗹𝗹 𝗟𝗮𝗻𝗲 𝗖𝗼𝘂𝗻𝘁𝘆 𝗣𝘂𝗯𝗹𝗶𝗰 𝗛𝗲𝗮𝗹𝘁𝗵: 𝟱𝟰𝟭-𝟲𝟴𝟮-𝟰𝟬𝟰𝟭
---
Español
𝗣𝗿𝘂𝗲𝗯𝗮 𝗖𝗢𝗩𝗜𝗗-𝟭𝟵 & 𝗛𝗜𝗩 𝗴𝗿𝗮𝘁𝘂𝗶𝘁𝗮 𝗽𝗮𝗿𝗮 𝗹𝗮 𝗰𝗼𝗺𝘂𝗻𝗶𝗱𝗮𝗱
Sábado 28 de noviembre
11 AM – 4 PM
1195a City View St.
Eugene, OR 97402
Vamos a tener pruebas del COVID-19 disponible sin importar su estatus migratorio y con o sin seguro medico para todos los residentes que habitan en el condado de lane. Si tiene seguro medico, traiga su tarjeta.
¿𝗣𝗿𝗲𝗴𝘂𝗻𝘁𝗮𝘀? 𝗦𝗮𝗹𝘂𝗱 𝗽𝘂́𝗯𝗹𝗶𝗰𝗮 𝗱𝗲 𝗟𝗮𝗻𝗲 C𝗼𝘂𝗻𝘁𝘆: 𝟱𝟰𝟭-𝟲𝟴𝟮-𝟰𝟬𝟰𝟭