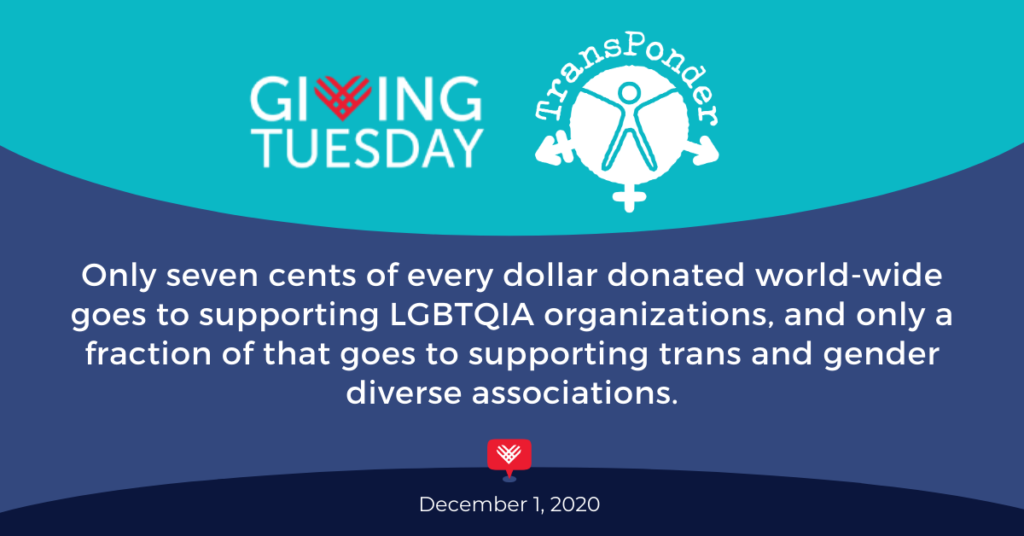 Save the date!
GivingTuesday is an opportunity for people around the world to use their individual power of generosity to remain connected and support their communities. It's a day when everyone comes together to give back in all forms.
Together we give
This GivingTuesday, donate to TransPonder and help us continue to support trans/gender diverse members in our community with education, resources, and advocacy. You can also join us on December 1 for a day of gratitude. In these times of hardship and uncertainty, we want to thank our community for their generosity.
Ways you can give
Give. Use one of the options below to donate, or donate on our Facebook page (CLICK HERE).
On December 1, join us for a day of gratitude. Mark your calendar [CLICK HERE] for the big day and watch our social media channels.
Spread the word. Encourage your friends and family to join you in sharing why you support our organization (here are some ideas). Make sure to use hashtag #GivingTuesday and tag TransPonder on Facebook, IG, and/or Twitter so we can share!
Learn about our programs