Let's Talk Transgender with Allies & Supporters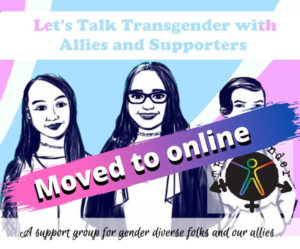 **During the current COVID-19 health crisis our support group will be held online through Zoom
Who:
This is a support group meeting open to trans, gender diverse, and allied folks of all ages.
Event description:
This is a space for sharing resources, building community, socializing, and providing support for trans and gender diverse folks and the people who care about them.
The first part of the time is the group, followed by socializing and a potluck.
Please bring a potluck item IF you are able!
This event happens every fourth Saturday of the month
3:30-5:30p
Event Location or Zoom Meeting info: