Queer Gear: Clothing Swap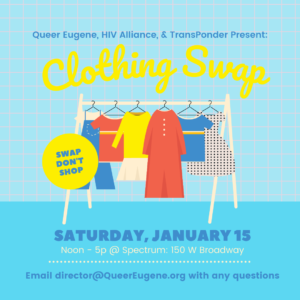 Queer
Eugene, HIV Alliance, Spectrum, & TransPonder present:
Join us on January 15th from noon to 5pm at Spectrum (150 W. Broadway).
Sign up for a time slot here (10 people/30 min.): https://bit.ly/3qNkWwG
Bring proof of vaccination and wear a mask at all times! Bring clothes to share if you are able to, but don't stress if you can't.
Email director@QueerEugene.org with any questions.
Cheers,
Seth Lake (they/them)