Transgender Day Of Visibility Art & Performance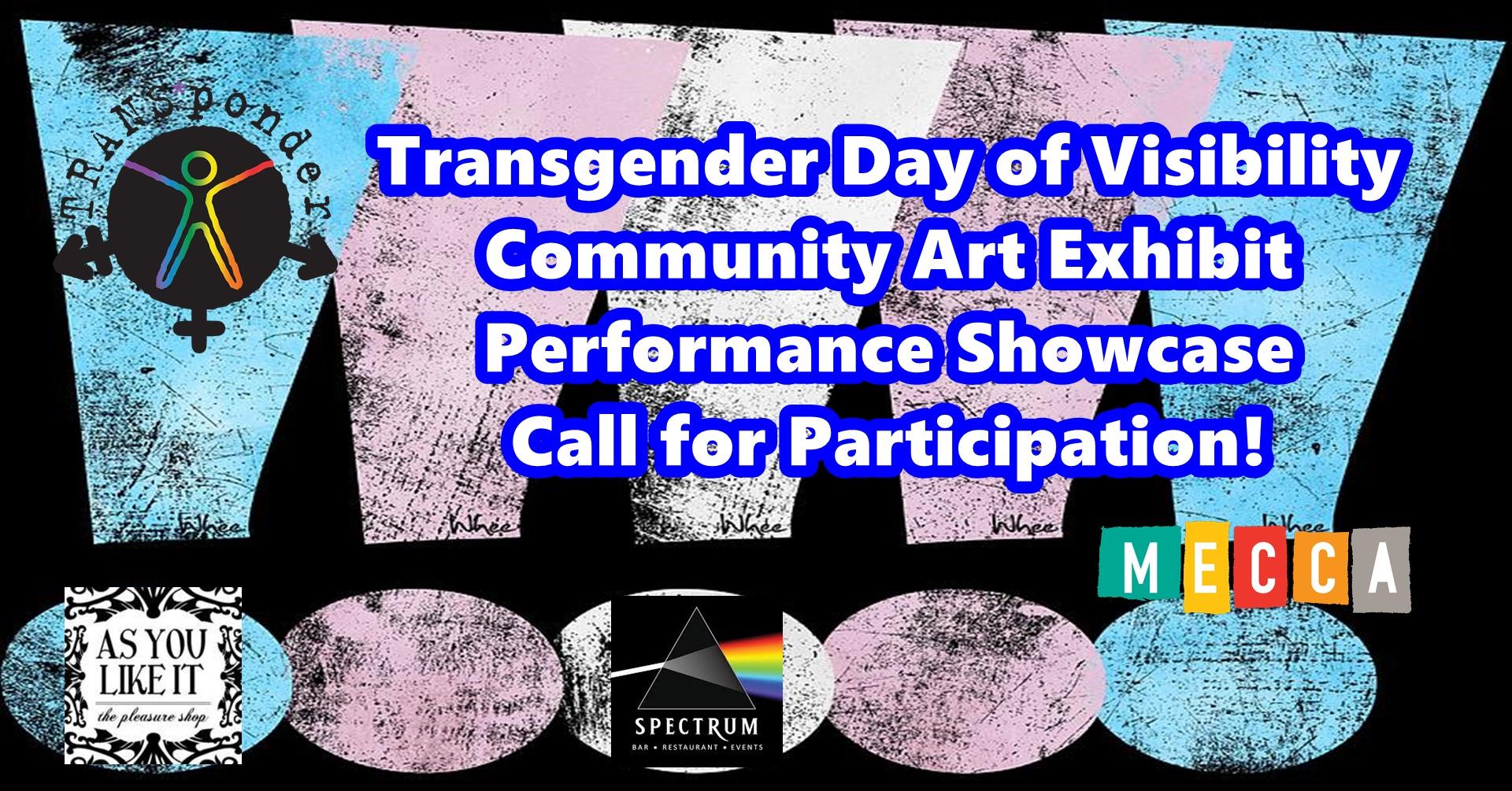 *** COVID-19 UPDATE:
In light of the recent developments regarding COVID-19 regarding community events, we will be altering our original gathering intention and support community visibility virtually rather than coming together in person at this time.
For the art element of this event, we still invite everyone to create a canvas and turn it in by the extended deadline of March 22nd. We invite you to turn it in sooner rather than later as we are uncertain how long our drop spots will remain open for dropping.
The art will be posted on social media (Instagram and Facebook) as individual anonymous pieces on Transgender Day of Visibility on March 31st, and will be hung as a collective community art piece as soon as we get word that we are able to hang it.
You may pick up blank canvases at As You Like It (PLEASE support them if you can!) and the Trans*Ponder office between 8:30am and 5pm. If there is no one in the office, they will be hanging on the door of 541 Willamette Street suite 310, Eugene Oregon 97402. You may: drop them back off through the mail slot at the office, mail them to the above address and be reimbursed with a receipt for shipping, or drop them back off at As You Like It . We have some limited capacity to drop off/pick up canvases, please email oblio@transponder.community if you need drop off/pick up support.
For the performance element, we will keep you all updated if we find a virtual element that is inspired.
In Community Health and Support,
The Trans*Ponder Team
Transgender Day of Visibility is March 31, and we are inviting all transgender/gender diverse people to participate in a community art piece and performance showcase. Folks are welcome to participate in one or the other, or both. There is a lot of text, but PLEASE read it all! The details are important!!
THE ART PROJECT:
Transponder is inviting transgender/gender diverse folx to create a piece of art on a 4×4 canvas that we supply guided by the prompt "If people really saw my gender they would see.." to be hung as a collective community art piece starting March 31st at Spectrum.
Canvases
Canvases and waivers are available to pick up at:
As You Like It (1655 W 11th Ave #1, Eugene, OR 97402)
The Trana*Ponder office (541 Willamette St Suite 310, Eugene OR 97401) during open hours
Spectrum(150 W Broadway, Eugene, OR 97401).
Art Dates
We will be hosting TWO community art dates at one of our sponsors MECCA, where there is room for 15 people at any given time. We will have access to their classroom and art supplies:

Saturday February 15th from 1-4

Saturday March 14th from 1-4

We need volunteers to help us clean up at 4pm each time.
Logistics
ALL canvases must be submitted by 5pm on March 15th. They can be put through the Transponder mail-slot if we are out of the office.
Finished canvases can ONLY be dropped off at the Transponder office or As You Like It.
Waivers MUST be turned in with the canvases for us to include it in the installation.

There is an opportunity to have your piece and a short interview as part of a table-top book project that Oblio Stroyman is curating. If you are interested, please check the appropriate box on the waiver, and print your contact info legibly, and they will get back to you.

All canvases will be displayed at the Trans*Ponder office once the exhibit is over, and may be used in future displays.
THE PERFORMANCE SHOWCASE:
Spectrum will host Transponder's performance showcase from 7-9pm at Spectrum on March 31st. If you have never performed before, and would like help developing a piece so YOU can be visible, this event is for you!!
This is an all ages event, though be advised the work will not be censored for content.
Logistics
We are inviting folks to offer a piece of approximately 3 minutes guided by the prompt "If people really saw my gender they would see…"
We are envisioning monologues, poetry, drag performance, musical performance, dance, etc.
Deadline
Deadline to reserve a performance slot is March 15th.
You do NOT have to have your piece fully fleshed out yet!!
Please contact Roxy Allen at grapeslurpee27@gmail.com with "Trans Day Of Visibility Performance" in the subject line.

Please share your concept, any special audio and lighting needs to reserve a spot. We do not have the ability to navigate complex technological needs.
Workshops
Roxy Allen (squee!!) will be heading the performances. They are offering two workshop opportunities to develop your piece and your voice.

Writing Workshop

:     Sunday March 15th from 2-4 at Spectrum. 

Practice performance workshop:

     ONLY for those doing a written/spoken piece 


                                   2-4pm on Sunday March 22nd at Spectrum.
Run of Show
March 30th at Spectrum from 6-9pm
Some snacks provided.
All folks participating in the show are expected to be there if at all possible.