Transgender Day of Remembrance
Join TransPonder and community for Transgender Day of Remembrance on Saturday, November 20, to honor the trans and gender diverse lives that were lost in the past year to anti-transgender violence. During the week we'll have mental health professionals available to community members for free, virtual counseling sessions.
On November 20, we'll have several ways you can engage with community and honor our transcestors. All times are in Pacific Time.
We want to thank our community sponsors and partners, City of Eugene, HIV Alliance, Lane County Community Health Council, PacificSource Health Plans, Trillium Community Health Plan, Unitarian Universalist Church, United Way, UO & UOLGBTESS, and Yardy Eugene, and all our wonderful volunteer community members for contributing to this event.
Want to get involved? Sign up for volunteer event support here:
---
Saturday, November 20, 2021
---
11 a.m. to 12:30 p.m. — TransParent Support Group
Our monthly virtual TransParent Support Group is support group for all caregivers with transgender, gender diverse, and gender-questioning youth. It is a space for parents, caregivers, and guardians to share questions and ideas about how to support their youth in a private discussion group.
All caregivers of trans/gender diverse youth, and adult trans/gender diverse people without children (who want to help those in the group) are welcome.
Email info@transponder.community for the Google Meet link.
---
2 to 4 p.m. — Town Hall w/ TransPonder & the NAACP
Eric Richardson from the NAACP and Kyle Rodriguez-Hudson from TransPonder are leading a community town hall on safety and Black identities. Held on Zoom, Kyle and Eric will have a live virtual open discussion about bringing our intersecting communities together to strengthen our connections and focus on safety within our shared communities. 
All are welcome.
---
5 to 7 p.m. — Candle Ceremony @ Unitarian Universalist Church
TransPonder welcomes all community to gather in-person at the Unitarian Universalist Church to partake in a candle ceremony and enjoy a vegan food box from Yardy (boxes are limited and are first come, first serve). In order to adhere to the social distancing guidelines of the church, socializing will take place outside, so dress appropriately and bring masks. There will be chairs outside and a few tables.
We will be rotating people into the atrium for the participatory altar space in small groups, where you can light a candle and pay your respects. There will be chairs inside the space and a few outside if people need to wait in line.
All are welcome. Masks required!
Location: Unitarian Universalist Church, 1685 W 13th Ave, Eugene, OR 97402*
5:15 p.m. – Reading of names ritual
5:30 p.m. – Proclamation, Lucy Vinis, City of Eugene Mayor
5:45 p.m. – Keynote Address, Kyle Rodriguez-Hudson, TransPonder Executive Director
*Accessibility Info
ADA & gender neutral bathrooms
No steps towards entrance
ASL interpreter for mayor proclamation and keynote speaker address
Closed captioning will be available for the reading of the names
On Nov 20, at 5:30 p.m., see our Instagram account (@transponder_nonprofit) for a live stream of the mayor's proclamation and the keynote speaker, our executive director.
On nov 20, from 5-7 pm click here for a live stream of the atrium
---
FREE Virtual Counseling Sessions
---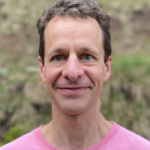 HIV Alliance will have free virtual counseling sessions around Transgender Day of Remembrance and on the day of. Use the form in the link below to sign up. Please allow two business days for someone to contact you for scheduling your appointment.
Meet Ben Cramer, one of HIV Alliance's virtual counseling therapists!
Ben is a parent and migrated from paleoclimate science to being a therapist, which works a lot better for him. As a therapist he borrows from person-centered, anti-oppressive, stages of change, narrative, queer, and Black feminist theories. He enjoys bike commuting, logic puzzles, reading, hiking, and kicking a soccer ball around.
click here to go to HIV Alliance's scheduling form
---
Questions? Email info@transponder.community.