Wordcrafters in Eugene: Rainbow Reads, a Teen LGBTQIA Reading Group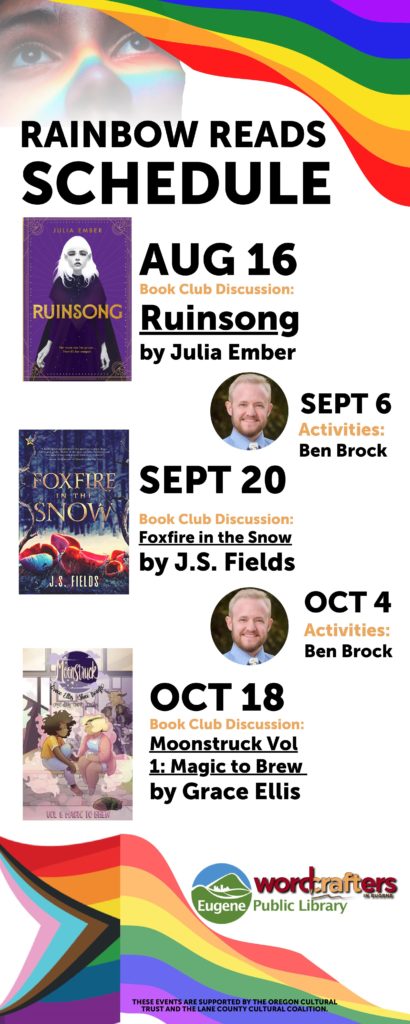 Join Rainbow Reads–a young adult LGBTQIA book group for Lane County teens hosted by Wordcrafters in Eugene in partnership with the Eugene Public Library! Rainbow Reads meets the first and third Monday of every month to discuss young adult literature for queer teens, by queer teens, and/or about queer teens. All teen readers across the gender and sexuality spectrum are welcome. Meets the first and third Monday of every month at 7 p.m. PT.
See Wordcrafter's website here: https://wordcrafters.org/rainbow-reads/
First Monday: Community building–group activities including LGBTQIA picture book storytime, guest LGBTQIA authors, discussing LGBTQIA artists, media, and issues, and recommending LGBTQIA works
Third Monday: Book club–in which we dive into the book of the month
---
To foster an inclusive space, a brief safe space policy will be read at the start of each meaning, and participants will be encouraged to share their preferred name and pronouns. Discussions will be kept to age-appropriate topics, and content warnings will be provided.
---
Eugene Public Library is giving away FREE BOOKS to Rainbow Reads participants. Yours to keep! You do not need a library card.
Stop by the library or sign up online to pick up this month's book; first come, first serve.
If the library runs out of giveaways and rentals, or you live outside of the Eugene/Springfield Metro area, Wordcrafters has digital and audio books available for the reading group to ensure all readers have access.
click here to get a free ebook and/or sign up for email alerts