MECCA Art Kits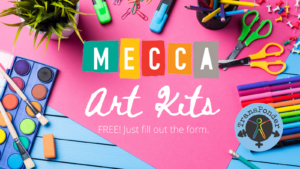 🎨 TransPonder has partnered with MECCA to bring people in the Eugene/Springfield area FREE 𝗮𝗿𝘁 𝗸𝗶𝘁𝘀 𝗳𝗼𝗿 𝗵𝗼𝗺𝗲 𝗱𝗲𝗹𝗶𝘃𝗲𝗿𝘆. If you share your art via social media and tag @MECCAEugene and TransPonder you can earn a gift card to MECCA! 🎨
Please take a moment to fill out our form and a volunteer will deliver your kit to your doorstep.
MECCA is located at 5th and Willamette, between Amtrak and Buffalo Exchange. Hours are Tues—Sat 11–6. Call 541-302-1810 with any questions about the kits themselves, their hours and operations, and any questions about their gift cards.
Link to form: https://forms.gle/tAFHzPUojw8jV5xB8
Or fill out form below.