HIV Alliance Injection Supply Delivery Program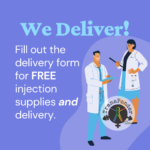 HIV Alliance and TransPonder are offering a syringe and hormone injection supply delivery service. You can place an order by filling out this form: CLICK HERE.
Orders MUST be placed by Tuesday at 5 p.m. or they will be bumped to the next week. Requests will be dropped off by a TransPonder volunteer via no contact delivery on Thursdays at no specific time.
Please email oblio@transponder.community if you have questions.
Or fill out the embedded form below: