FOOD for Lane County Produce Program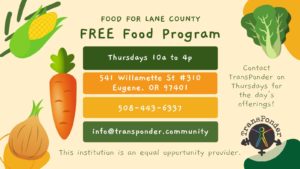 Hey TransPonder family–let's eat! TransPonder has partnered with FOOD for Lane County to provide FREE food at our office on THURSDAYS, from 10a to 4p.
🍎

What: FREE food from FOOD for Lane County
🧅 When: Thursdays from 10a to 4p (Check this page for any date changes.)
🥬 Where: TransPonder's office at 541 Willamette St #310
🥔 Who: Everyone, all ages 
The food will be picked up by a TransPonder team member on Thursday morning and displayed on a clean table in our office for people to stop by and pick up, until supplies last. Bring containers for the food you take! Please take however much or little you want for your household, and if you're curious what's available that day you can call and/or email the office on Thursdays after 10a.
At 4p, the tables and food will be taken down.
2023 closures: June 29 (warehouse inventory) & Nov 23 (holiday).
---
Directions
Our building is located in the historic Oregon Office Building, across from the post office and next to the Smith Family Bookstore building. Our office is on the 3rd floor, at the top of the stairs, across from the elevator; we're in room #310. (Update: there's construction at the office; it's often easier to take the elevator.)
There is free 3-hour parking behind our building, between Oak St. and Willamette St. And free 1-hour parking in the parking lot next to the old Oregon Electric Station across the street. You have to register through your phone at one of the pay panels to get the free hour.
---
More Information
FFLC has a mobile food pantry that is LGBTQIA-friendly! Located at Centro Latino Americano on the 1st and 3rd Fridays, Bethel SD on the 1st and 3rd Thursdays, and Sheldon Community Center on 2nd Fridays of the month. Please see their website for details: https://foodforlanecounty.org/mobile-pantry/
For those who have feedback and/or are interested in being involved in a volunteer committee concerned with the program and any potential boxing and distribution of the food, please contact Ben, at info@transponder.community. If there are enough volunteers interested in participating in the committee we'll give it a try.
Questions? Email info@transponder.community or call 508-443-6337.
---
This institution is an equal opportunity provider.