---
Transgender Education & Awareness Services
TransPonder created Transgender Education and Awareness Services (TEAS) to fulfill our commitment to educate the community at large
Request a Consultation/Training Today
---
Transgender people are a part of all communities, and our work is always intersectional. True positive change for the transgender community is created through:
supporting personal efficacy from within the trans/gender-diverse community
supporting institutional systemic change in the broader community through consultation, training, and education
At TransPonder, we have learned during our time of providing training across the state of Oregon to a broad spectrum of communities and organizations that continuous training practices help foster systemic change and create a harmonious and inclusive environment.
Regardless of whether you are at the beginning of this work or ready to build on a foundation, TransPonder TEAS services are designed to best suit organizations in supporting institutional and systemic change.
Please complete our Request a Training Form and the TEAS education team will reach out to you to schedule an initial education consultation.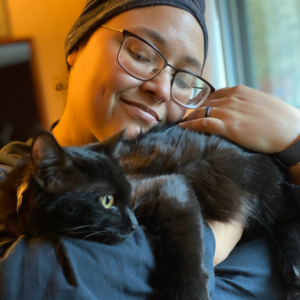 Sara Summers (she/her)
DEI & Outreach Manager
Gemini
Loves Poptarts
Cis
Biracial
Voracious reader
Queer
This is not her cat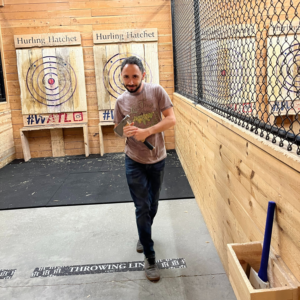 Andrew Horan (he/him)
Training & Outreach Specialist
Taurus
Cis
Gamer
Queer
Dances like no one is watching
Puerto Rican Irish
This is not his axe
Examples of Training Sessions
Bias Interrupted: The Implicit To the Explicit & All the Bias In-Between
The first step in eliminating biases is to know how they present in everyday situations. This workshop will explore how bias appears in various forms in the workplace, school, and communities.
The TEAS team will share how to identify, aware of the common biases and their long-lasting impact. Participants will develop the skills and knowledge to create equitable practices to avoid and interrupt bias in the future.
Spilling the Tea: Queer & Trans Microaggressions
Participants will learn a dash of queer history, the roots of gender & sexuality-based microaggressions, and define examples of intentional and unintentional microaggressions in the workplace, schools, community, and home.
The TEAS team will explore the impact and damage caused by microaggressions and the importance of interrupting them. Attendees will practice interrupting microaggressions and discuss how this skill can be used and the various communication approaches.
Cup of Privileges: Awareness & Understanding of Privilege
"When we identify where our privilege intersects with somebody else's oppression, we'll find our opportunities to make real change."- Ijeoma Oluo
Each person's identity is complex and comprises many components, including privileges. In this training, we'll explore aspects of privilege to foster awareness and understanding
Gender 101: VarieTea
This training was designed to share foundational knowledge around gender, and all that goes along. This VarieTEA pack of gender 101 will include;

Terminology & definitions
Do's & Don'ts
Inclusive language
Gender expression & gender identity
Strategies for creating a more inclusive environment
Pronouns & the importance of respecting them
The Tale of Language Lore
As language adapts to reflect cultural and societal changes, the meaning of the words we use also changes.
For example, when the characters in older television shows or movies sound cringe—ruining a show you used to find pleasant.
This training will explore problematic aspects of biased, culturally appropriative, gendered, and pejorative language. Participants will learn their history and impact, alternatives they can use, and how to advocate for those alternatives.