---
Training, Equity, and Advocacy Services
TransPonder created Training, Equity, and Advocacy Services (TEAS) to fulfill our commitment to educate the community at large
Request a Consultation/Training Today
---
Transgender people are a diverse community representing all racial and ethnic backgrounds. While trans people are increasingly visible in our culture, they still face severe discrimination, stigma, and systemic inequality; therefore, our work has to be intersectional. At TransPonder, we have provided training across Oregon to a broad spectrum of organizations and have learned that positive change for the transgender community is created through:
supporting personal efficacy from within the trans/gender-diverse community,

supporting institutional and systemic change in the broader community through consultation, training, and education, and

Continuing training practices to create a welcoming and inclusive environment.
Whether you are at the beginning of this work or wish to continue building on a solid foundation, 

 

TransPonder's Training, Equity, & Advocacy Services (TEAS)

  

 will meet you where you're at and work alongside you to foster a safe, empathetic, and honest conversational space where everyone can grow their knowledge and advocacy tools together.
"The comfort and inclusivity of the presenters. Sara has a great sense of humor and is engaging; Andrew was open and honest, and they both worked great together." – Gender 101: VariTEAS participant.
"It felt comfortable. I love the term…' assume best intentions' because I am trying, but I know I inadvertently make mistakes. But it is my responsibility to learn."  – Gender 101: VariTEAS participant.
"Sara's skilled and engaging instruction made the training awesome. She is good at communicating with the group and making the training interesting." –  Spilling the Tea: Acts of Exclusion participant.
"I really enjoyed how personable and relatable the presenters are and how they shared examples from their own lives to help make the learning more real."– Bias Interrupted: The Implicit To the Explicit & All the Bias in Between participant.
"I liked how non-confrontational the trainers were. I was never made to feel like I had been doing something wrong; just shown the best ways to improve."  – Gender 101: VariTEAS participant.
"I enjoyed how easy it was to read the slides and understand what was being discussed by the information presented. I also enjoyed the multiple stopping points for questions. I also love that there is another optional session on Monday for more questions!" – Gender 101: VariTEAS participant.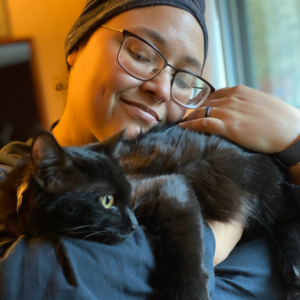 Sara Summers (she/her)
DEI & Outreach Manager
Gemini
Loves Poptarts
Cis
Biracial
Voracious reader
Queer
This is not her cat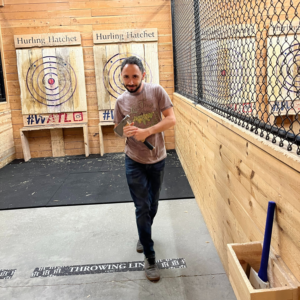 Andrew Horan (he/him)
Training & Outreach Specialist
Taurus
Cis
Gamer
Queer
Dances like no one is watching
Puerto Rican Irish
This is not his axe
Examples of Training Sessions
Bias Interrupted: The Implicit To the Explicit & All the Bias In-Between
The first step in eliminating biases is to know how they present in everyday situations. This workshop will explore how bias appears in various forms in the workplace, school, and communities.
The TEAS team will share how to identify, aware of the common biases and their long-lasting impact. Participants will develop the skills and knowledge to create equitable practices to avoid and interrupt bias in the future.
Spilling the Tea: Queer & Trans Microaggressions
Participants will learn a dash of queer history, the roots of gender & sexuality-based microaggressions, and define examples of intentional and unintentional microaggressions in the workplace, schools, community, and home.
The TEAS team will explore the impact and damage caused by microaggressions and the importance of interrupting them. Attendees will practice interrupting microaggressions and discuss how this skill can be used and the various communication approaches.
Cup of Privileges: Awareness & Understanding of Privilege
"When we identify where our privilege intersects with somebody else's oppression, we'll find our opportunities to make real change."- Ijeoma Oluo
Each person's identity is complex and comprises many components, including privileges. In this training, we'll explore aspects of privilege to foster awareness and understanding
Gender 101: VarieTea
This training was designed to share foundational knowledge around gender, and all that goes along. This VarieTEA pack of gender 101 will include;

Terminology & definitions
Do's & Don'ts
Inclusive language
Gender expression & gender identity
Strategies for creating a more inclusive environment
Pronouns & the importance of respecting them
The Tale of Language Lore
As language adapts to reflect cultural and societal changes, the meaning of the words we use also changes.
For example, when the characters in older television shows or movies sound cringe—ruining a show you used to find pleasant.
This training will explore problematic aspects of biased, culturally appropriative, gendered, and pejorative language. Participants will learn their history and impact, alternatives they can use, and how to advocate for those alternatives.