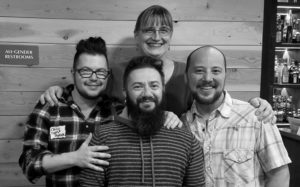 Trans*Ponder believes that true change comes through A) supporting personal efficacy and activism within the trans/gender diverse community and B) supporting institutional change through training, and education. Trans*Ponder created Transgender Education and Awareness Services (TEAS) to fulfill our commitment to educate the community at large.
See our list of previous trainings here.
In order help create a safer environment for Trans/Gender Diverse people to thrive and foster deep allyship, Trans*Ponder offers local and national trainings to local businesses, state and city agencies, colleges and schools, health professionals and more regarding workplace inclusivity, examining bias', customer service, evaluation of inclusivity policies and more.
When we foster compassion, connection, understanding and safety between the whole of the community from within and outside of the trans/gender diverse community, we see many important things happen. There is increased investment from the community at large in the trans/gender diverse community, and a reciprocal investment from within the community outward.