Art Exhibition: Month of Sundays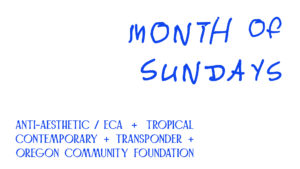 Eugene Contemporary Art is proud to present Month of Sundays, a group exhibition of the ten artists who took part in Tropical Contemporary's Transformation Residency program between 2020–2021: Carina Borealis, Princess Bouton, Francis Dot, Irene June, Remy Malik, Oliver Myhre, Julia O., Eel Probably, Pace Taylor, and Ty Warren. 
The Transformation Residency, created in partnership with TransPonder and funded through the Oregon Community Foundation, supported transgender and gender-diverse artists who reside in the state of Oregon. This residency program aimed to mitigate the social, political, and economic barriers to artistic creation. To that end, this residency offered financial sponsorship. 
While this inaugural residency program was planned and envisioned prior to the conditions under the COVID-19 pandemic, it took place entirely within its constraints. These artists, in a large part, created work in isolation from their peers and from each other. A wide range of artistic methodologies and interests are evident: found object assemblage, large-scale installation, liberatory meditation practices, reflections on rural gay identity, queer touch, and intimacy. For the first time, this exhibition brings these artists' works together within the same time and physical space. 
Month of Sundays is co-curated by Tropical Contemporary members Tannon Reckling and Sam Wrigglesworth. Special thanks to the Oregon Community Foundation and to TransPonder for their support. 
The exhibition will be on view at ANTI-AESTHETIC, 245 W 8th Ave, Eugene OR, from January 15th through February 27th, 2022, with open hours on Saturdays and Sundays, from 12–4pm.