Eugene Frontrunners: A run/walk club for LGBTQIA+ folx & friends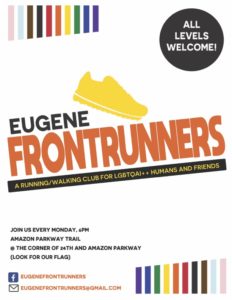 Join Eugene Frontrunners for a run and/or walk every Monday at 6 p.m. PT on the Amazon (Rexius) Trail Loop, at the corner of 24th and Amazon Parkway. They meet at the parking lot off of 24th and Amazon Parkway. Look for the flag to know you're in the right location.
All levels welcome–there will be many people at many different levels so no one should have to run or walk alone. Bark and paved options available and the trail is lighted. See trail map CLICK HERE.
Optional social gathering afterwards.
Email eugenefrontrunners@gmail.com with any questions.
CLICK HERE for their Facebook Page or see their handle: @EugeneFrontRunners 
CLICK HERE for their Instagram or see their handle: @eugenefrontrunners