Pacific Center: MAPS – Metoidioplasty & Phalloplasty Support Group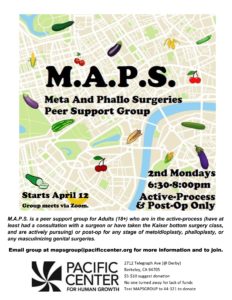 What: Metoidioplasty & phalloplasty support group
When: Every second Monday @ 6:30–8 p.m. PT
Who: Adults (18+) who have had masculinizing genital surgeries
Where: On Zoom, email mapsgroup@pacificcenter.org
M.A.P.S. is a peer support group for Adults (18+) who are in the active-process (have at least had a consultation with a surgeon or have taken the Kaiser bottom surgery class, and are actively pursuing) or post-op for any stage of metoidioplasty, phalloplasty, or any masculinizing genital surgeries.
Pacific Center offers ongoing, drop-in, peer-facilitated groups covering a range of topics and issues important to our communities.  These groups provide connection, support, information, and enjoyment. Peer groups are volunteer-led and are not therapy groups. A majority of their peer groups are now meeting virtually, most on Zoom. If you have questions please contact the program director via email.
Suggested donations for peer group attendees is $5 to $20 per group meeting.  No one is turned away for lack of funds. They are happy to accept donations through their website, Text-to-Donate, or via snail mail.