SASS: LGBTQIA+ Sexual Assault Support Group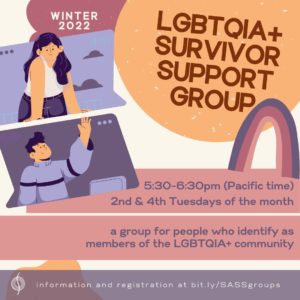 Sexual Assault Support Services (SASS) has a bi-monthly LGBTQIA+ virtual support group for survivors of sexual violence 18+.
Group happens on 2nd and 4th Tuesday of every month 5:30-6:30 p.m. PT, held virtually on Zoom.
If you are new to SASS, their drop-in groups are a great place to start. Join in, have conversations, and find support from others who have had similar experiences. Get get the information on how to joint fill out their registration form. For more information about their groups check out their FAQ page.
SASS is a trans-friendly and aware organization who works hard to make their services easily accessible and available for their trans/gender diverse clientele. For more information about SASS and what they do check out their website at http://sass-lane.org