TBIPOC Affinity Discussion/Support Group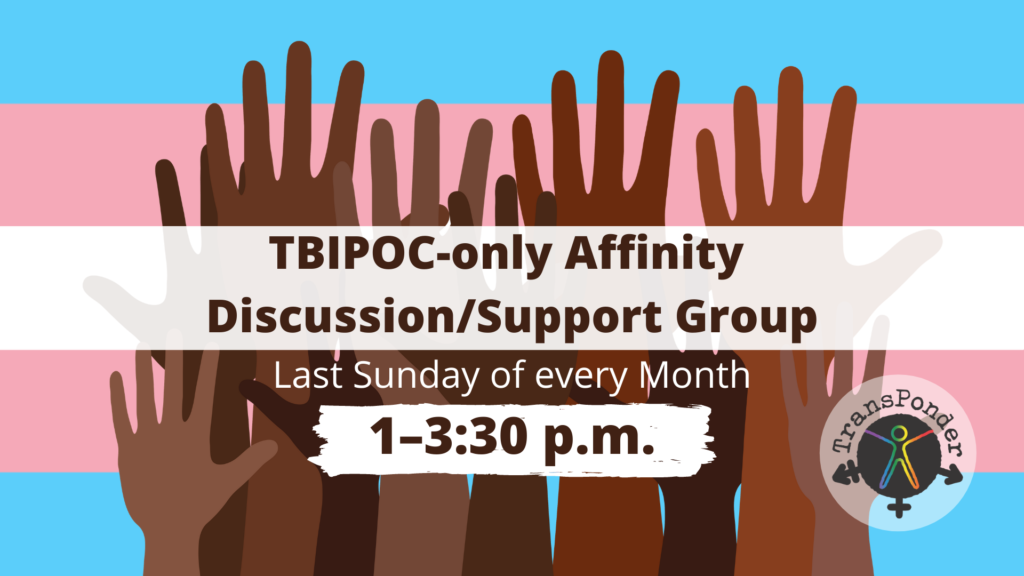 What: TBIPOC-only Affinity Discussion/Support Group
When: Last Sunday of every month @ 1–3:30 p.m. PT
Kyle will be facilitating a TBIPOC-only affinity discussion/support group on the last Sunday of every month from 1-3:30 p.m. This is not a therapy group, but a community group for resources, support, and discussion. This group is only for trans/gender diverse Black people, indigenous people, and people of color.
For questions about the group or to speak with the facilitator contact: kyle@transponder.community
Here's the Facebook event group: https://www.facebook.com/events/1107954359652206
Here's a message from Kyle
Kyle speaks about TransPonder's TBIPOC group–click HERE for video
Transcript
"Hi everyone, my name is Kyle. This year 2020 has been quite challenging for many of us. Primarily for people of color and those who are trans identified. We've lost so many brothers and sisters through senseless acts of crime and violence. People have lost their lives, their livelihood, and even their hope.
In an attempt to create some hope, provide representation, provide a sense of safety, I partnered with TransPonder this summer and developed a monthly TBIPOC affirming group for those who want just to be heard and to be seen.
So if you are someone who are trans and a person of color, and you want to meet other people who are trans person of color, you want to feel safety, you want to feel some form of representation, shoot me an email at info@transponder.community. I would love to hear from you."