UOTeach: TransParent Support Group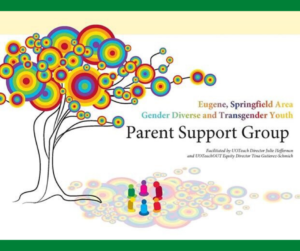 UOTeach is holding their monthly trans/gender diverse parent support group on Zoom!
𝐓𝐫𝐚𝐧𝐬𝐏𝐚𝐫𝐞𝐧𝐭 𝐒𝐮𝐩𝐩𝐨𝐫𝐭 𝐆𝐫𝐨𝐮𝐩 is a Lane County parent support group for Lane County caregivers with gender diverse children. The group is facilitated by the UOTeachOUT co-directors.
TransParent is a parent group specifically for families in the Lane County, OR community.
TransParent is strictly a group for families with gender diverse children.
TransParent is a space for parent/caregivers to share questions and ideas with one another about how to support their children in a monthly private discussion group.
The TransParent group is private and confidential.
The Facebook TransParent location for the group is encoded "private" and "hidden" with admission following administration approval. Email info@transponder.community to be connected with an admin.