TransParent Support Group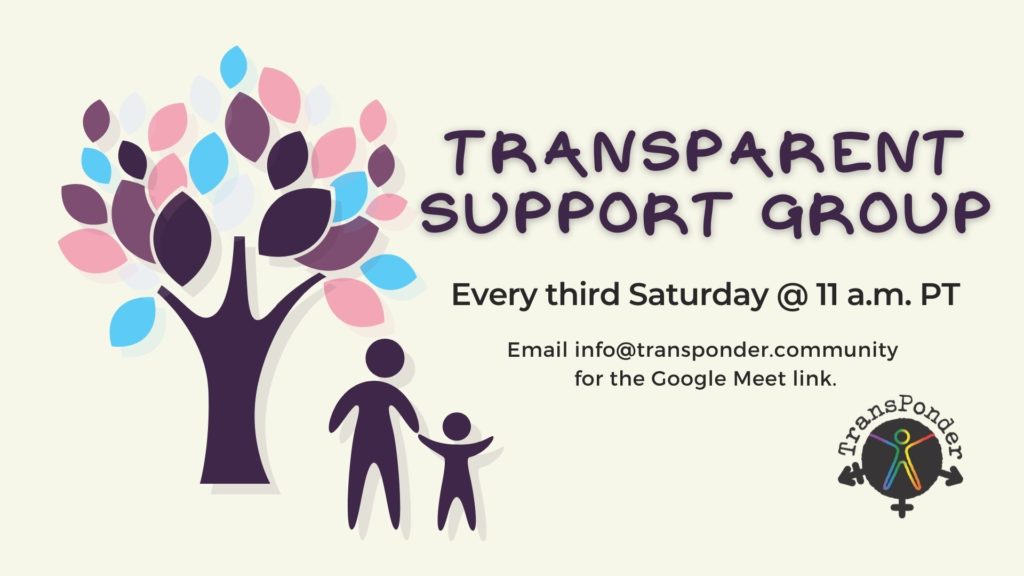 What: A monthly support group for caregivers of trans/gender diverse youth
When: Every third Saturday of the month @ 11 a.m. PT
Who: Caregivers of trans/gender diverse youth
Where: Online on Google Meet, email info@transponder.community for the link
FREE
TransPonder is partnering with UOTeach to hold a monthly trans/gender diverse parent support group on Google Meet! We'll be meeting online until our policies and practices allow us to meet in person.
TransParent Support Group is support group for all caregivers with transgender, gender diverse, and gender-questioning youth. It is a space for parents, caregivers, and guardians to share questions and ideas with one another about how to support their youth in a private discussion group. The group also welcomes adult trans and gender diverse folks who may not have children, but are focused on supporting parenting of gender diverse children.
This group is not a space for non-parent/guardian professionals to visit or become members (e.g., therapists, pediatricians, journalists, researchers, and other people with a professional interest in learning from the group). If you are a professional who has questions about the trans and gender diverse community, please attend our Let's Talk Transgender Support Group.
The group is facilitated by TransPonder facilitators in partnership with UOTeach staff.
The Facebook TransParent Group is encoded "private" and "hidden", with admission requiring administration approval. Email info@transponder.community to be connected with an admin if you wish to join the Facebook Group.