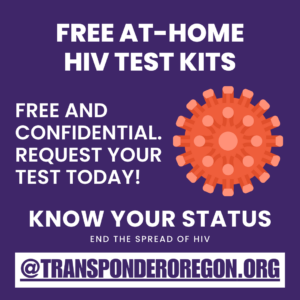 LANE COUNTY AREA ONLY: HIV Alliance and TransPonder offer FREE at-home HIV testing kits with FREE delivery*. A TransPonder delivery driver will drop off requested supplies via no-contact delivery in unmarked packaging. The test is a saliva test; the kits have instructions and supplies; and there is contact information to HIV Alliance's PrEP coordinator.
If you live outside the delivery boundary or can't have kits delivered to you, you can pick up a kit at the Queer Resource Center (1185 Arthur St.). We'll also offer kits at events, so keep an eye out for us.
We are offering incentives! After completing and recording your HIV test, you can sign up for a $30 gift card (Target or Walmart, depending on availability). Your kit will come with a QR code to report your results, or you can use the link on this page.
Please see the button below to sign up for an at-home HIV test kit.
*you can receive up to one kit at a time per person (please submit a new form for each person). There is no limit to the number of times you can request a kit, so please keep requesting them!
CLICK HERE to sign up for a free At-home HIV Testing Kit
CLICK HERE to record your test results and sign up for a gift card