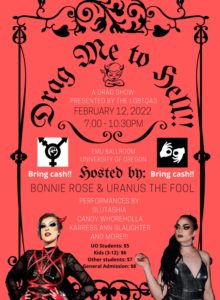 Drag Me to Hell!! A UO Drag Show
🔥 The LGBTQA3 Alliance presents the annual drag show, Drag Me to Hell, on Saturday February 12th, 2021, in the EMU Ballroom at 7p.
This is an all-ages show, and ASL interpretation will be available at this event. Come see local performers show their artistic talent in Drag, a historic form of gender-bending expression within the LGBTQIA+ community.
Proceeds will be donated to TransPonder!
We highly encourage attendees to bring cash tips for the performers. Click the link for more info and tickets.
https://ticket.uoregon.edu/22uo/lgbtqa3
CLICK HERE for PDF