Peer Support Program Town Hall Invitation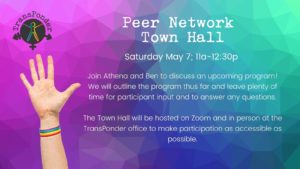 👋 TransPonder would like to invite you to a Peer Support Program Town Hall hosted by Ben (he/him) and Athena (she/her) on Saturday, May 7 from 11a – 12:30p.
We will be sharing the general outline of a potential peer program and allow plenty of time for questions as well as participants to share their own thoughts and ideas for how that program should operate.
There will be an ongoing opportunity to participate as a member of a committee tasked with working on the details of the program, as well as various individual and team projects outside of the meeting times.
The Peer Support Program Town Hall will be hosted in person at the TransPonder office with Ben, and streaming on Zoom with Athena at the same time, to allow for ease of access.
RSVP by emailing info@transponder.community and let us know if you're attending in person or virtually, so we can give you instructions on how to participate.
If you have any questions please feel free to reach out to Athena at any time. Her email is athena@transponder.community.
Transponder office location & phone number:
541 Willamette St #310, Eugene, OR 97401
508-443-6337