Save the Date! Tuesday, May 3: Hot Mama's Wings Fundraiser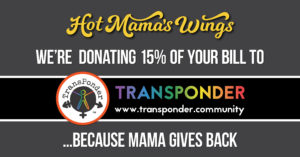 🍖 Don't miss a chance to donate to TransPonder while enjoying some tasty wings! On Tuesday May 3, 15% of dining sales from Hot Mama's Wings will be donated to TransPonder! ⁠
⁠
See their menu and hours here:⁠
https://www.hotmamaswings.com/⁠
⁠
Thanks, Mama's!