Volunteer of the Quarter: Karon!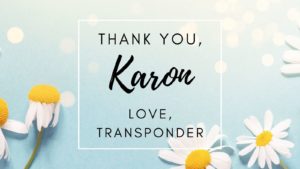 Karon is our volunteer of the quarter. She has been volunteering at events since 2020 and has been volunteer-facilitating Book Club with Ben since 2022. Karon was a rock star in last year's PRIDE in the Park. She wasn't even scheduled to volunteer that day and jumped right in to help out. She does this a lot and we're so grateful to have her help at TransPonder.
Thank you, Karon!
Image description: blue background with white daisies. Text is black.