Join us for another COVID Vaccine Clinic!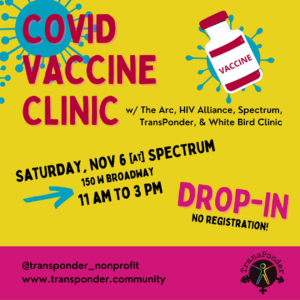 Join TransPonder, along with HIV Alliance, White Bird Clinic, Trillium Community Health Plan, and The Arc of Lane County at Spectrum for a LGBTQIA+ community COVID vaccine clinic. FREE.
Whether it's your first dose of the vaccine, second dose, or booster shot, please visit us at Spectrum (150 W Broadway) on Saturday, November 6 from 11 a.m. to 3 p.m.
We'll have White Bird administering vaccines, HIV Alliance processing rapid HIV and COVID testing, and The Arc supplying food boxes. We also want to give a huge shout out to Trillium, whose donations, leadership, and engagement have made this all possible. Thank you!
White Bird will have all three vaccines present. In addition, you will be able to mix and match your vaccine, meaning you are not required to get the same type of COVID vaccine you received previously.
If this is your first dose, White Bird will help set you up with a follow-up appointment.
For entertainment, we'll have the pleasure of listening to DJ Tinta Turnter, and hanging out with some local queens, including Purity L'Chaste!
The Arc of Lane County will be handing out food boxes with dry goods; first come, first serve. Each box is enough food for one person for about three to five days.
Please see our website for the most up-to-date information:
https://transponder.community/events/event/covid-vaccine-clinic/
Email info@transponder.community with any questions.