Yoga Meets in Person!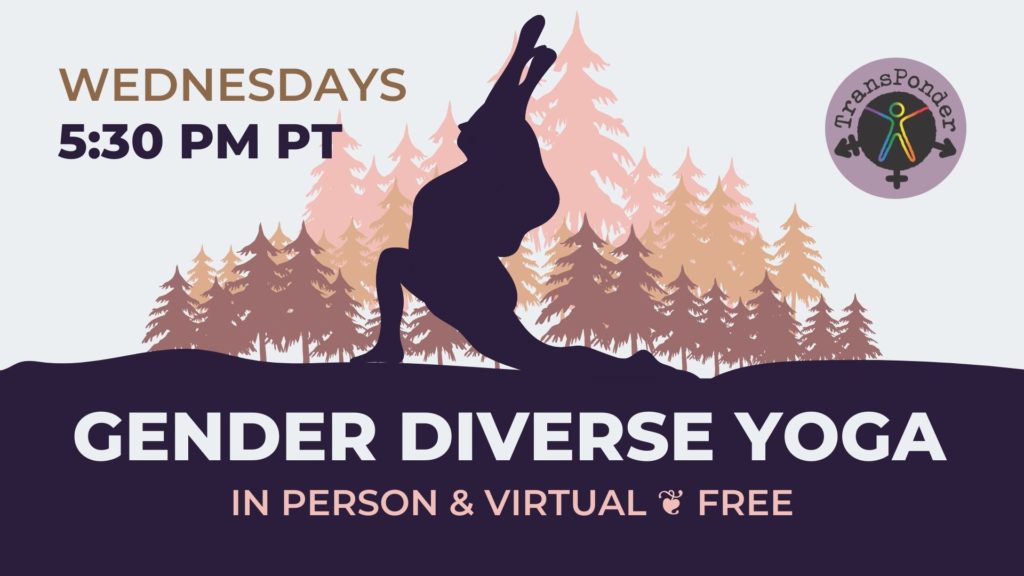 Dearest community,
Thank you for your patience as we slowly reopen our programming to return to in person spaces. Yoga and our Trans Community Support Group have been our priorities, as we've had the most feedback from community members about those groups. However, it is our goal to eventually open up all our pre-pandemic groups back with in-person options, including our social groups, which are still on hold. Again, thank you for your patience as we try to keep our community as safe as possible.
Please see the info, below, on how to attend yoga, in person and virtually.
---
What: Yoga class
When: Wednesdays @ 5:30 p.m. PT
Who: Trans/gender diverse only. All ages (< 13 okay with adult supervision)
Where: In person (Lamb Cottage) and virtual (Zoom)
FREE
How to get to the class
We are now offering yoga in person and virtual (at the same time). Both start at 5:30p.
To join us in person, meet us at Lamb Cottage in Skinner's Butte Park (130 Cheshire Ave. 97401). We will have chairs in the cottage, but please bring your own equipment, including blocks, belts, mats, blankets, towels, bolsters, and straps. There is a parking lot at the base of Skinner's Butte, farther down the avenue.
To join us virtually, see our Zoom link: https://zoom.us/j/328884737. Please download the Zoom app on your device before the class and mute your mic upon login to reduce audio feedback during class.
CLICK HERE for more information about our yoga class
COVID information
Masks required! Please have an updated vaccination card (or a photo of it) or a recent (within 48 hours) negative COVID test.
CLICK HERE for locations for a COVID test. Some of our community members recommend getting tested at UO because you do not have to show your ID.
CLICK HERE for Updates on Our COVID Practices